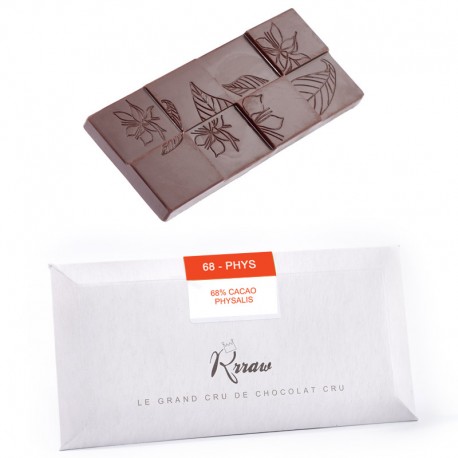  
Tablette 68-PHYS Physalis (45gr)
Raw chocolate bar frutified and tangified by the pervian physalis "love in a cage". 68% of raw cacao and 22% of integrated cane sugar. 
Made in France with love. *organic ingredients : raw cacao beans*, coconut sugar*, cacao butter*, Peruvian physalis* (aguaymanto), sea salt.
The love in a cage or physalis, is a range of red orange colors. The variety that Rrraw combines with its "grand cru de chocolat cru" is aguaymanto originating from Peru where it is nicknamed "the Inca bay".
Because of its high concentration of vitamins and antioxidants, the Peruvian physalis is considered as a "super aliment". It reinforces the calories of our raw chocolate and it brings divine fruity and tangy flavors 
Calories : 2470 kj / 590 kcal
Glycemic Index : 35
Total Fat : 42 g
  - Sat.Fat: 26 g
Total Carbs : 47 g
 - Sugar à 24 g
Protein : 6.5 g
Salt : 0,245 g  
May contain traces of nuts or sesame
Data sheet
Poids (g)

45

Labels

Artisan de France, Biologique, Vegan, Sans gluten, Solidaire