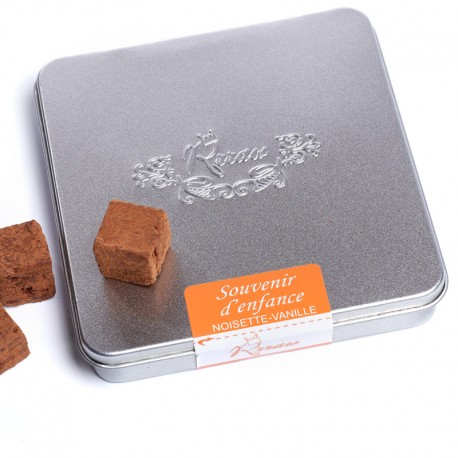  
Truffes SOUVENIR D'ENFANCE - Noisette Vanille* (100gr)
Raw chocolate truffles with a hazelnut and vanilla flavor. 50% raw cocoa and 22% integrated cane sugar. 30 truffles / metallic box. Conserve at room temperature.
Pure raw chocolate made in France with love. *biological ingredients: raw cocoa beans*, integrated cane sugar*, hazelnut*, sunflower oil*, raw cocoa powder*, vanillas*, sea salt.
Can contain traces of nuts and sesame.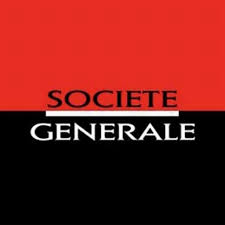 From the artisan praline to the best spread, the cocoa-hazelnut-vanilla mix is most certainly the most common for chocolate. But the version that I invite you to taste is, contrary to the other Rrraw products, totally unique.
The three flavors stay quite distinct and find, by the magic of the raw flavor, a sacred union. 
Les trois saveurs restent bien distinctes et trouvent, par la magie du cru, l'espace d'une union sacrée.
The little cube of raw cocoa resists a little under the teeth before letting itself dissolve. When it dissolves, it delivers one by one all of the flavors that it holds. Some bursts of cocoa cracks under the teeth and brings a final note for the pure cocoa.
The raw cocoa beans (Criollo from Peru not roasted) are slowly crushed by a stone wheel with other ingredients, 100% plants and essentially raw.
This mix is then cut into small cubes, coated with cocoa powder.
Amount per 100G

Calories : 2470 kj / 590 kcal
Glycemic Index : 43
Total Fat : 46 g
- Sat.Fat : 18 g
Total Carbs : 38 g
-  Sugar : 21 g
Protein : 7 g
Salt : 0.152 g  

May contain traces of nuts or sesame
Data sheet
Poids (g)

100

Labels

Artisan de France, Biologique, Vegan, Sans gluten, Solidaire