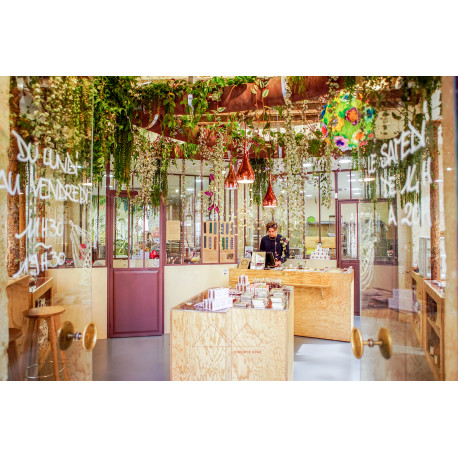  
Visite privée (date libre)
Privatize Cacao Factory for yourself as well as your friends & family
Duration: 1 hour and 30 minutes / limited to 8 people / start 4:30 pm or 6 pm
Address : 8 Mulhouse street / corner of the jeûneurs road 75002 paris
The reservation is for a maximum of 8 people
Discover the tour program in the section "to know more"
Enter into the world of the raw cacao and its creation in a unique workshop in the center of paris
Outside of our workshop, come rediscover the cacao as you have never seen it. The beans of "primary cacao" crushed in cold temperatures in a stone wheel with transformed products (bars, truffles, and other "gourmandises") through the natural artisanal preparation and the most natural ingredients
Tell it : from its creation to its nutritional values, we will tell you why this sacred aliment of the amazonian people always raises a lot of interests and inspires us in this tasteful and nutritional experience.
Revealing it: thanks to the tour of the workshop we will explain to you our fabrication process "bean to bar". A work in cold temperatures to keep the virtues of the cacao intact. A visual and smell experience guaranteed.
Participating: It is a surprise….
Tasting it : The visit will finish with a tasting of our products. The discovery of the flavors of the raw cacao in the crunchy natural bean and much more.
Pleasing yourself/offering: The day of the visit, benefit from a 10% discount on all of our products