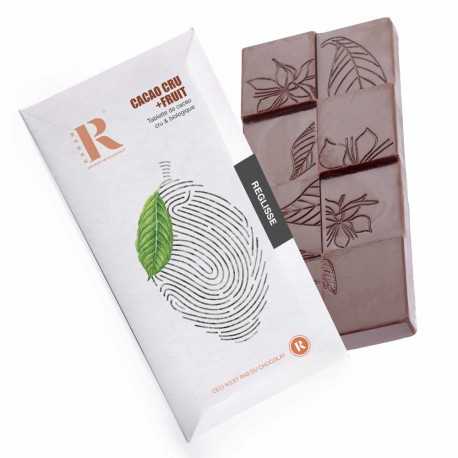  
Tablette REGLISSE (45gr) - Cacao +
Raw chocolate bar of black licorice from Calabre. 58% of raw cocoa and 22% of integrated sugar.
Made in France with love. *Biological ingredients : raw cocoa beans*, integrated cane sugar*, cocoa butter*, licorice*, sea salt.
With only 58% of raw cocoa softened by almond milk, 58-REG licorice would be a milk chocolate (without milk) if it weren't for the licorice. Don't think to find the confectionary from your childhood… Rrraw invites you to discover the licorice in its purest version … with all its freshness and aromatic power.
Amount per 100G

Calories : 2530 kj / 600 kcal
Glycemic Index : 45
Total Fat : 49 g
- Sat.Fat : 31 g
Total Carbs : 40 g
-  Sugar : 22 g
Protein : 4.6 g
Salt : 0.217 g  

May contain traces of nuts or sesame
Data sheet
Poids (g)

45

Labels

Artisan de France, Biologique, Vegan, Sans gluten, Solidaire