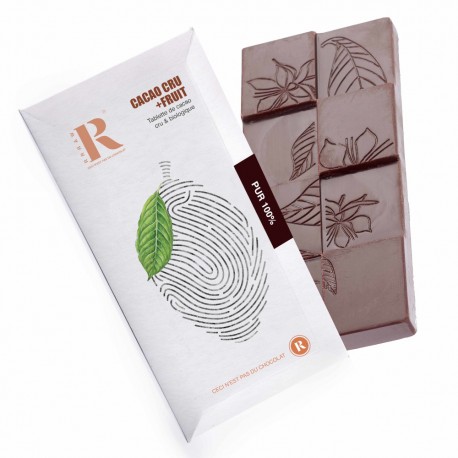  
Bar 100% (45gr) - Cacao +
 100% cacao. Without sugar, fructose, or lécithine.
Made in France with love. *organic ingredients : raw cacao beans*.
Our raw fabrication, without roasting or baking, helps to avoid bitterness, you are going to discover the real original flavors, subtle and vegetal of the raw cacao, that are usually covered by the roasted flavors.
WHY A 100%?
With PUR 100 I offer the gourmets the opportunity to discover the original flavors, subtle and vegetal of the raw and wild cacao.
It is also the occasion for the free spirits to revisit the common place that says that " it is the roasting that reveals the flavors of cacao". I think that the people who thought of that idea had never tasted a raw cacao bean of quality. It is as stupid as saying that "it is by grilling the pepper that its flavors are revealed". Roasting doesn't create the cacao flavor, it brings other flavors that are stronger and cover the more subtle ones of the cacao at its raw stage.
From a nutritional point of view, PUR 100 aims for excellence. The transformation to raw allows us to keep all of the nutrients that are mostly destroyed by the roasting. The raw chocolate contains 4 times more antioxidants compared to the roasted chocolate. The total absence of sugar enables us to recommend the 100% to the diabetics.
HOW TO SAVOR IT?
The ideal is to taste it in small amounts to not saturate the mouth palate. 
Let it melt gently under the tongue, or in between the tongue and the mouth palate, the flavors will unfold themselves one after the other. Then make it move to other parts of the mouth you will discover still nez flavors.
Drink what you like, or chew your favorite fruits and restart the experience.
Tablette PUR-100
Calories : 2815 kj / 673 kcal
Glycemic Index : 20
Total Fat : 58 g
  - Sat.Fat: 36 g
Total Carbs : 31 g
 - Sugar 0 g
Protein : 8 g
Salt : 0,008 g  
May contain traces of nuts or sesame
Data sheet
Poids (g)

45

Labels

Artisan de France, Biologique, Vegan, Sans gluten, Solidaire